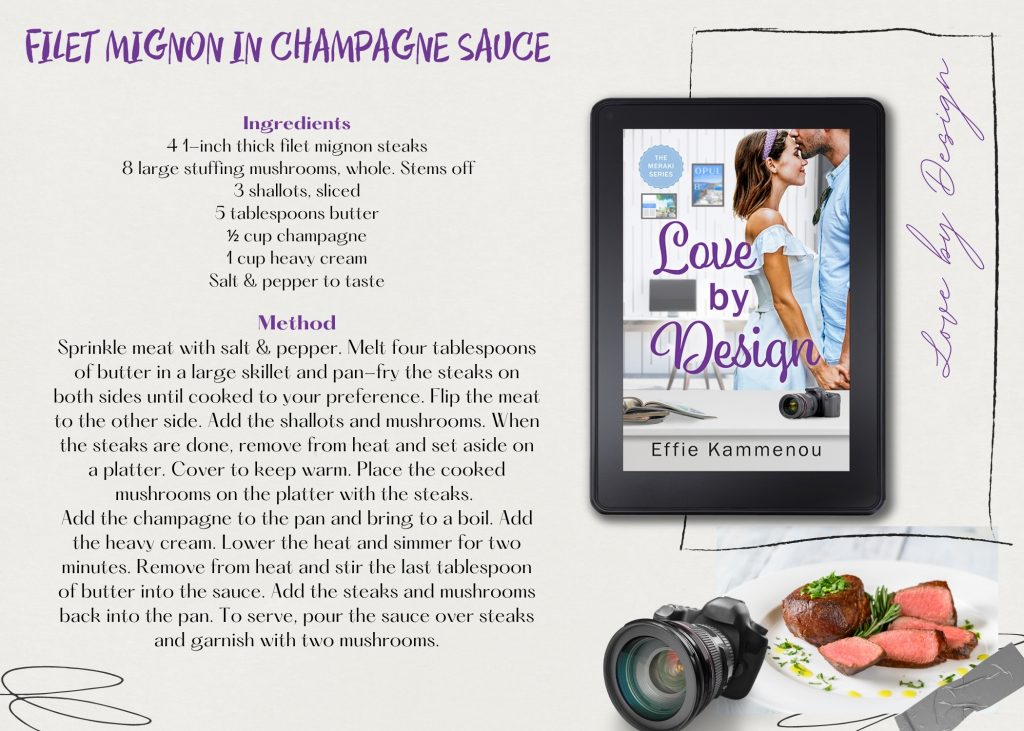 On March 24th, 2021, my latest novel, Love by Design: Book Two in The Meraki Series, was released. As many of you know, I add recipes between some of the chapters to add a sense of taste and fully immerse the reader into the characters' world. In the story, this meal was served at what should have been a pleasant evening. Scroll past the recipe for an excerpt of Love by Design.
 My mother developed this easy-to-make, decadently delicious recipe. I save this for special occasions, although I could gladly devour this weekly. Side with either asparagus or haricot verts to compliment this dish.
Here is an excerpt from Love by Design, where the Filet dish is featured:
Dinner was unusual, if not a little uncomfortable for Mia. The formality was a bit unsettling. Pavlos and Nicholas discussed business as though they were at a board meeting while Mia listened intently, trying to keep up.
After a while, all she could focus on was the filet mignon in champagne sauce, baby roasted potatoes, and grilled asparagus on her plate. She would have taken a bath in the creamy gravy if she could have; it was that delicious. Instead, Mia coated each bite of steak, soaking up every last drop. She barely noticed when Pavlos turned his attention to her.
"Tell me about yourself." Coming from Mr. Aristedis, the request sounded like an order. Under the table, Nicholas took Mia's hand reassuringly. She had to admit, that one small gesture gave her the comfort and courage she needed to speak.
Mia began to tell him about her father's restaurant and what her mother did for a living. She talked about her siblings and her grandparents in Athens, who she just had the pleasure of visiting.
"Is it okay if I share your grandmother's story and what we've been up to?" Nicholas asked.
Mia nodded and addressed Mr. Aristedis. "My yiayiá, my mother's mother, lives with us. She came here when my mother was three years old."
Mia went on to tell Nicholas' grandfather the entire story as she knew it. Nicholas interjected with the information they'd learned during his investigation, and Pavlos contributed with his own recollections of the time.
When Nicholas' iPhone vibrated, he pulled it from his pocket and frowned. "I need to take this, excuse me," he said, leaving the room.
An awkward silence ensued until Pavlos set down his fork, taking a hard look at Mia. "This a quite fortuitous," he said to Mia. "I wanted the chance to speak to you alone."
Mia smiled politely, hoping the elderly man didn't pick up on her discomfort. He could intimidate with a simple glance.
"I love my grandson very much."
The pronouncement warmed Mia's heart. "He loves you too. Nicholas speaks of you all the time."
Pavlos remained stoic, seemingly unmoved by Mia's admission. "His sister and I are all Nicholas have in this world. We are both fiercely protective of him."
"As you should be," Mia agreed. "I feel the same toward my family."
"Penelope endlessly sings your praises, and her approval doesn't come easily." Pavlos steepled his fingers, narrowing his eyes. "Still, I'm not so quickly won over. I need to learn more."
Mia felt internal heat rising from inside her chest, spreading up to her neck, as a flush intensified across her face. Someone must have cut her tongue out because, suddenly, she was struck mute.
"I'll get to the point," he said. "The women Nicholas has dated in the past came from families who were, shall we say, financially sound, for lack of a better expression."
Mia closed her eyes, trying to keep the composure she was sure to lose. "You mean wealthy," Mia challenged. "Let's not mince words," she said with false sweetness. They were only thirty seconds into this conversation, and Mia knew she would crumble to pieces before their discussion had ended if she didn't dig way down deep to find the strength to defend herself.
"Yes, wealthy," Pavlos agreed. "Unfortunately," he said with a sigh, "none of these women were significant to Nicholas, but had they been, I had little concern in their motives stemming from financial gain."
Calmly, Mia lifted her wine glass, sipping slowly as she pondered. "I don't know if that's an accurate statement. Some women, no matter how wealthy, want it all—the man, the money, and the empire."
Pavlos leaned forward. "And what is it that you want?" he asked, glaring at Mia as though he could read her innermost thoughts. "Nicholas and Penelope stand to inherit a fortune. You're a woman of average means from a modest family. What do you expect to gain?"

Love by Design is available on Amazon in paperback and on Kindle:
https://www.amazon.com/Love-Design-Meraki-Book-2-ebook/dp/B08XYSYK5M/ref=sr_1_1?dchild=1&keywords=love+by+design&qid=1616707715&sr=8-1
Synopsis:
Mia Andarakis just landed her dream job at a luxury magazine. And even better, her boss is the handsome and enigmatic Nicholas Aristedis, a man she has crushed on from afar. But Nicholas isn't who she imagined. Irascible and mercurial, his instant dislike for Mia makes it almost impossible for her to work with him.
Nicholas has faced many losses and heartaches in his thirty-two years. Determined to avoid heartbreak, he has closed his heart to love. But Mia awakens feelings in him he had long since denied. And soon he discovers their connection is deeper than he realized.
Mia and Nicholas embark on an adventure across picturesque locations as they launch a new publication and uncover the mystery behind her grandfather's disappearance. But perhaps the greatest challenge is in learning to set aside their insecurities and fears. Can the two forget the traumas of their past? And will they ever learn to trust in the possibility of love? Find out in the second novel of The Meraki Series.
On publishing day, I had a release party at Effie's Reading Resort, my Facebook reading group. It was a fun evening with guest authors and many giveaways. I would love for you to join the fun. I plan to add some other events in the future. Readers from the United States, Mexico, South Africa, England, Australia, and Canada, just to name a few, participated. Books bring the world together! https://www.facebook.com/groups/effiesreadingresort/
I offered a giveaway contest to newsletter recipients who joined my reading group. The winner is Linda Horin!
Next up, I'll be writing Krystina's story – sister number three! And … resolving the mystery behind the missing pappou.
Happy Spring, Happy Easter, Happy Passover, Happy days!
Xoxo