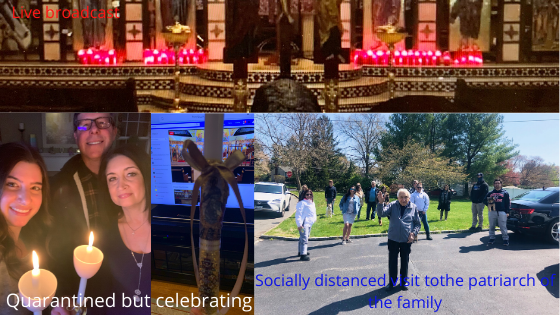 Life in quarantine has been surprisingly busy. So far, I haven't had time for boredom. I'm generally a very social person and one who loves to flitter about … in the warmer weather, that is. In the past, my husband has made fun of me, joking that if I didn't have a reason to go out all winter, I would stay holed up in the house like a little old lady until the weather grew warm. Well, we are putting his theory to the test. So far, I think we have only had one decent day in NY. It's been gloomy, wet, and chilly.
The quarantine began ten days before the release of Love is What You Bake of it. I was inundated with promotional preparations, so much so that the days flew by. I broke up my hours at the computer, cleaning out drawers and closets. By the time this stay-at-home order is over, the house should be fully organized!
It's been a strange, new world. Families and friends are missing out on milestones—birthdays, births, funerals, graduations, weddings, and holidays. This past Sunday was Orthodox Easter, the most important holiday on our church calendar. I watched all the services on Facebook Live. Who would have ever thought that a site that started as a way for college kids to stay connected, would turn out to be the only way to watch a religious service during these turbulent times?
But we made the best of it. Thanks to Zoom, families managed to spend the holidays together. We even surprised my ninety-seven-year old father, who lives alone, by paying him a socially distanced visit on Easter afternoon.
Drop a comment and tell me how you have been filling your time. Working from home? Taking up a new hobby? Binging a new series? Marathon reading?
I'm offering my book, Evanthia's Gift, book one in The Gift Saga, for free from April 24th – April 27th. Please take advantage of this offer while it lasts. It's available on Kindle.
Are you a member of my reading group, Effie's Reading Resort, on Facebook? If not, this is the time to join. International bestselling author Sylvain Reynard will be visiting the group for an author chat this Saturday, April 25th at 10 a.m. EST. His series, Gabriel's Inferno, is about to be released as a movie on May 29th on the Streaming channel Passionflix.
In addition, I'm planning an event that will include authors from several genres, including cookbook authors and food bloggers! With so many of us at home now, we are trying our hand at cooking more than ever before. Here's a chance to discover some new recipes! More information about dates and authors to follow.
Stay safe and do everything in your power to stay healthy. We will get through this.
Xoxo
Effie